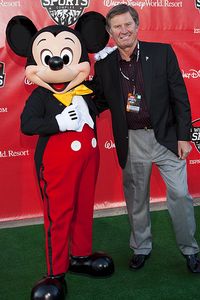 Matt Stroshane/Getty Images
Steve Spurrier is hanging out at ESPN The Weekend in Orlando.
And the Ol' Ball Coach
of course
talks Tebow:
Steve Spurrier, the former Heisman Trophy-winning quarterback at Florida and now the head coach at the University of South Carolina, thinks Tim Tebow will be successful in the NFL, no matter what happens with his throwing motion.

"You can't judge courage and the intangibles. And Tim has that," said Spurrier, who won six SEC titles and a national championship while coaching at the University of Florida (1990-2001). "I have no doubt he'll be successful in the NFL."

NFL scouts have been critical of Tebow's throwing motion -- elongated with a low release point -- so Tebow isn't working out at the NFL scouting combine in Indianapolis. In April's NFL draft, Tebow is projected to be picked anywhere from late in the first round to the third round, depending on his improvements.

"I'm making some adjustments and just trying to improve my fundamentals as best I can," Tebow told reporters in Indianapolis. "That's something I felt will improve my game and help me as a quarterback. It's something that I'm working on a lot."

Spurrier, who is in Orlando for ESPN The Weekend, bristles when people blame current Florida coach Urban Meyer for not helping make Tebow NFL-ready.

"Why did you want to change his throwing motion when you're winning all those football games?" Spurrier said. "Tim can throw. He just needed to work on his motion. He'll get there."